What you need:
1 x 6oz Wagyu Steak Burger
2 x slices of parmesan/ Italian hard cheese
1 x Brioche Bread Bun
2 tsp of mayo
1 x drizzle of truffle oil
1 x handful or rocket
2 x flat cap mushrooms.
1 x sprig of thyme
1 x clove of garlic
1 tsp of Wagyu Beef Dripping or splash of oil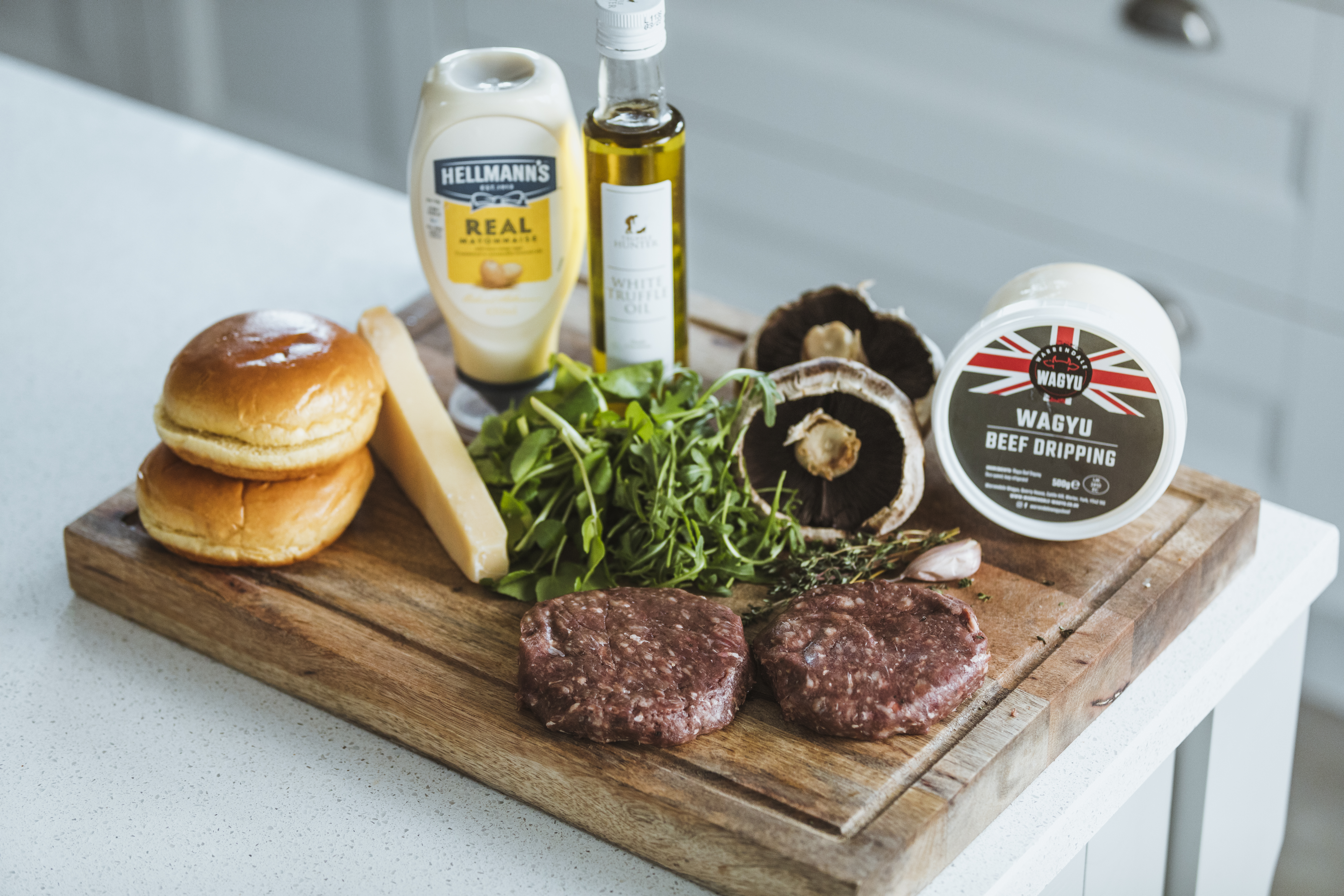 Method:
1.Add a frying pan to medium heat and toast off the bun. (Do not add any dripping or oil for this)
2.Once the buns are toasted remove from the heat.
3.In the same pan on a medium heat add the peeled mushroom with a splash of oil or wagyu beef dripping once cooking add the crushed garlic clove and sprig of thyme and cook all together until the mushroom is softened.
4.Remove the mushroom and contents from the pan once cooked.
5.In the same pan again cook your burger for 3 ½ minutes each side.
6.When the burger is cooking, in a bowl add the mayo and truffle oil and mix.
7.After 6 minutes of cooking add the cheese to the burger (if you have a frying pan with a lid place the lid over for a steamed finish to help melt the cheese)
Assemble your Burger
1.On the bottom of the bun place a little bit of truffle mayo followed by the cooked mushroom and rocket salad.
2.Now time for the burger topped with the parmesan cheese.
3.Now add a generous dollop of truffle mayo and you are ready to serve.
4.Enjoy.