WAGYU OXTAIL SOUP
What you need:

1 x Pack of Warrendale Wagyu Oxtail
2 x Large Carrots
1 x Large White Onion
2 x Sprigs of Celery
2L Beef Stock
2 x Garlic Cloves
3 x Bay Leaves
1 x Sprigs of Thyme
2 x Star Anise
1tbs of Plain Flour
1tbs of Hawkshead Bloody Mary Ketchup
1tbs of Wagyu Beef Dripping
A pinch of Salt and Pepper
A good splash of Red Wine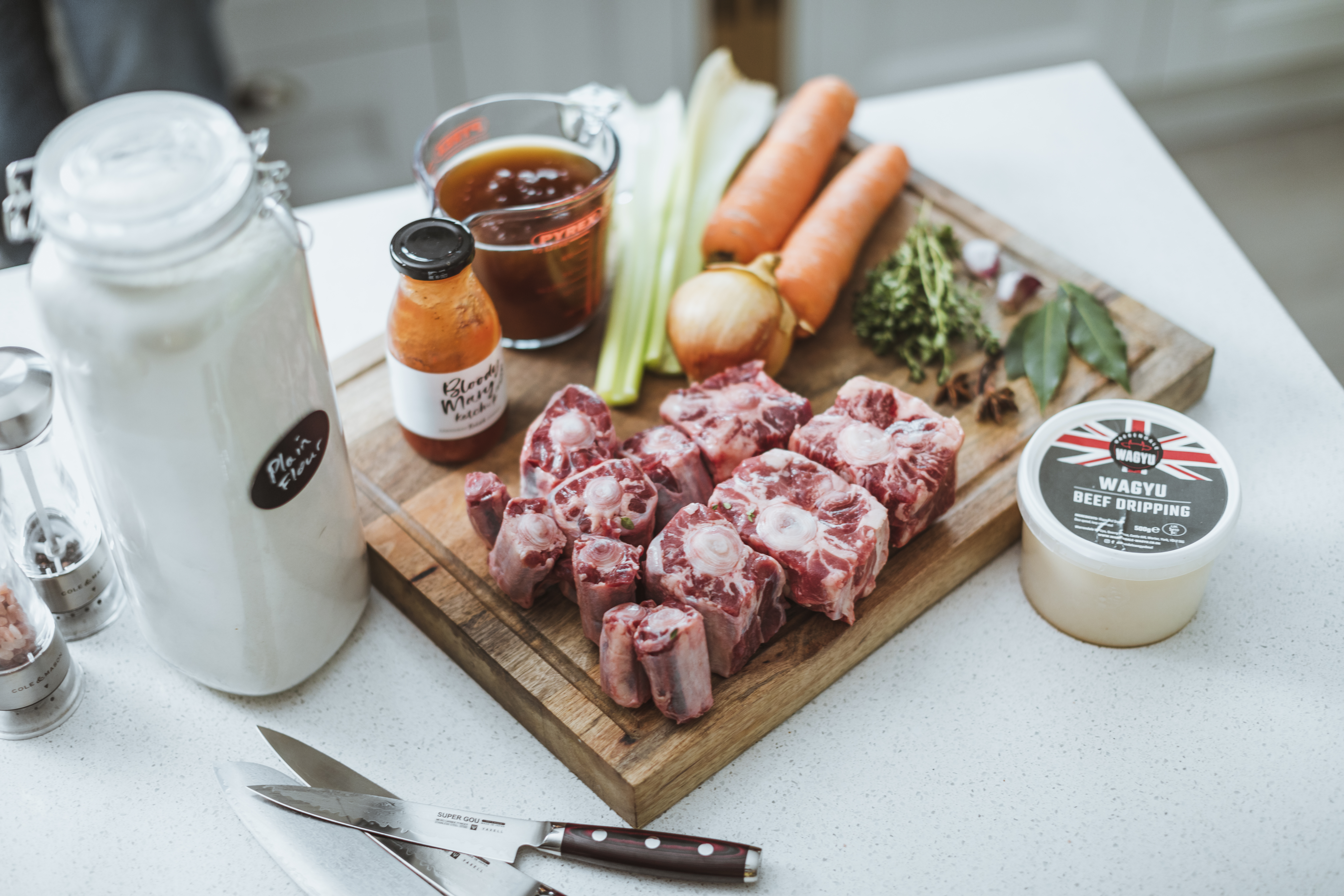 1.Pre - Heat your oven to 160 degrees.

2.Roughly chop the White Onion, Celery, Carrots and leave to one side.

3.Place a large pan on a medium heat, add the wagyu dripping. When melted add the Oxtail and brown both sides. You may have to cook the oxtail in batch's if your pan isn't big enough.

4.Once all the oxtail is browned remove from the pan and put to one side.

5.Using the same pan add all the chopped vegetables along with the bay leaves, thyme, star anise and peeled and grated garlic.

6.Once the vegetables have softened add the plain flour, splash of red wine, bloody mary ketchup, salt and pepper and the oxtail into the pan.

7.Add the stock to the pan and bring to a boil.

8.Once boiling remove from the heat and add the lid. Place the pan in the oven for roughly 3 hours or until the meat is falling off the bone.

9.Once cooked remove from the oven, skim away any excess fat on the top along with the bay leaves and star anise, add in more bloody mary ketchup if desired.

10.Remove the oxtail from the pan, allow this to cool slightly before you shred the meat from the bone.

11.With the rest of the pan use a blender to blend all the ingredients together till smooth, once smooth add seasoning to taste.

12.Place the shredded oxtail back into the blended soup.

13.Serve.