You will Need:
1kg Wagyu Beef Shin diced
1 x Wagyu Beef Bone Marrows
1 x Large Carrots
2 x Medium Onion
2 x Sticks of Celery
3 x Cloves of Garlic
1 x Sprig of Thyme
2 x Lemons
1 x Bunch of parsley
10g of dried mushrooms
1tbs of Tomato puree
1tbs Wagyu beef Dripping
Seasoned flower for coating the beef
500ml of White Wine
500ml Chicken Stock
A pinch of Salt and Pepper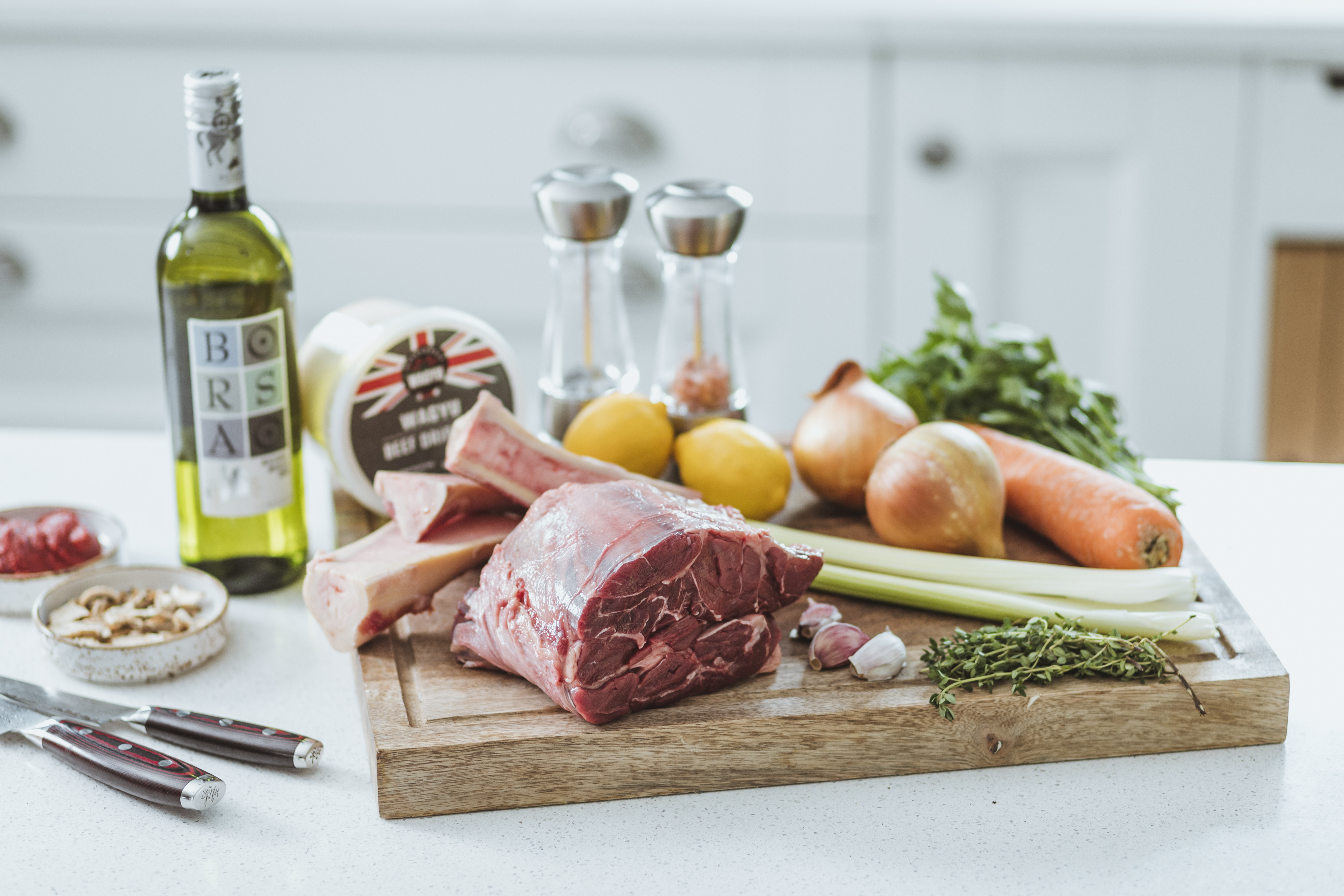 1.Dice the onion, carrot and celery and leave to one side for later.
2.Place a pan on a medium-high heat and add the beef dripping.
3.In a glass bowl toss your Diced Shin in the seasoned flower, making sure to cover all the meat.
4.Once covered add the shin to the pan to brown, you may have to do this in batches depending on the size of your pan.
5.Once browned removed from the pan into another bowl and leave to one side.
6.In the same pan add all your diced vegetables along with 2 of the peeled and grated garlic cloves and the thyme leaves (just the leaves no stalks) allow this all to soften.
7.Once softened add the dried mushrooms and the tomato puree. Stir this all together before returning your browned shin.
8.Mix all the ingredients together.
9.Add the white wine and bring to the boil. Once boiling add the chicken stock and season with salt and pepper.
10.Add the Bone Marrow into the pan and leave to simmer for 3 hours until the beef is tender.
11.While your pan is simmering away it's now time to make the gremolata.
12.To make your gremolata add to a bowl the zest of 2 lemons, the last clove of the peeled and grated garlic, finely chopped parsley and a pinch of salt and pepper, mix then cover with cling film and leave to one side for later.
13.Once the Shin is cooked remove it from the heat, skim off the excess surface fat and season to taste.
14.Sprinkle the Gremolata over the Ossobucco and serve with your desired choice of sides.