What you need:
Serves 4-6
1kg Brisket
1 bulb of garlic
sprig of thyme, rosemary & sage
1 x beef stock cube
1 x medium white onion
1 x purple carrot
1 x orange carrot
1 x yellow carrot
½ x red onion
¼ red cabbage
¼ white cabbage
pinch of salt and pepper
1 tsp ancho chilli flakes
1 tbs Wasabi Mayo
Rustic ciabatta bread buns x 4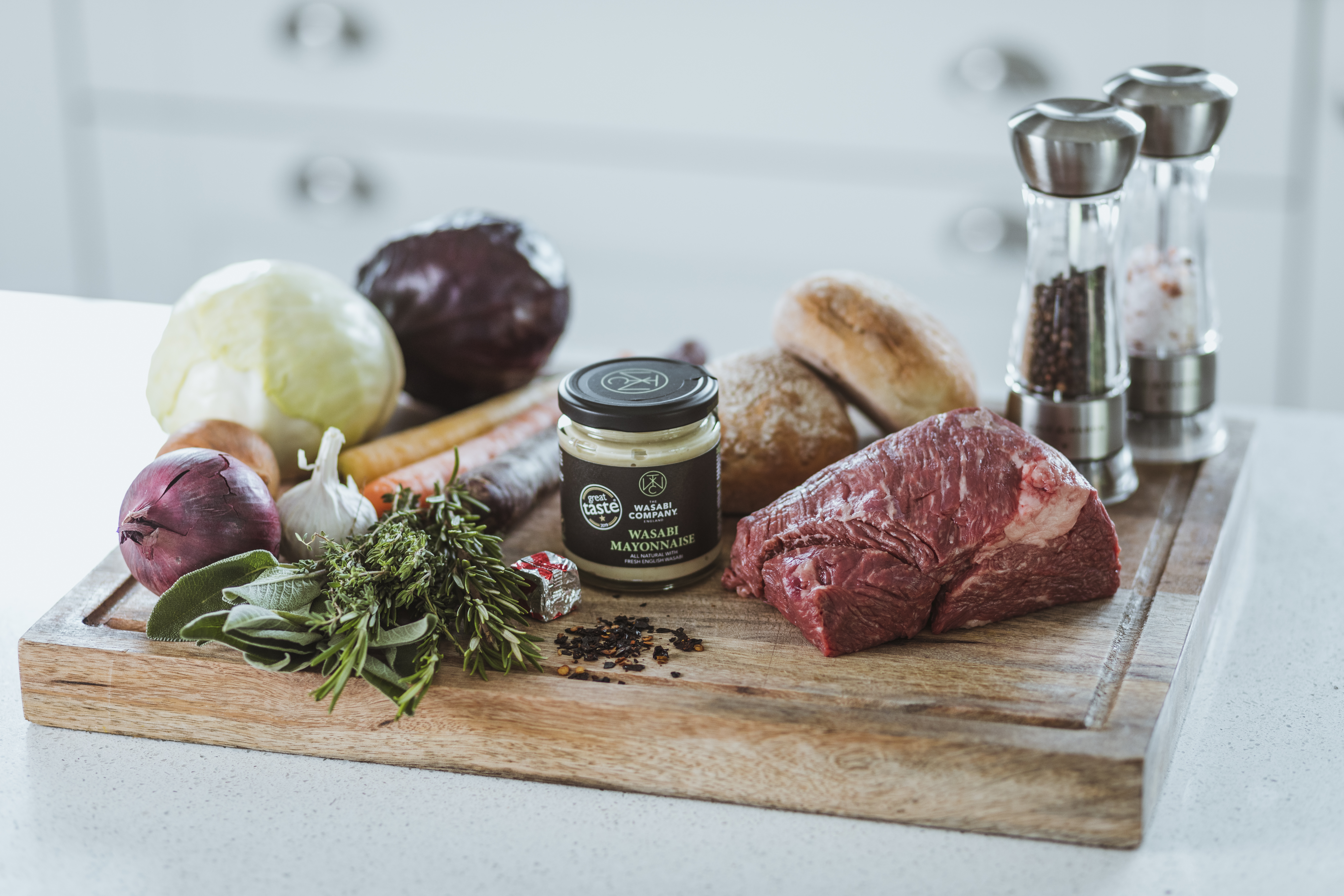 Method:
1.Pre heat the oven to 100 degrees.

2.Remove the brisket from the packaging and season all over with salt and pepper, once seasoned add the Ancho Flakes.

3.Heat your pan and add the dripping or oil.

4.Add the brisket to the pan.

5.Half the garlic bulb and half your onion and then add them face down to the pan.

6.Turn the brisket so that it is browned on all sides

7.Add the fresh herbs

8.Crumble in the beef stock cube.

9.Cover the brisket with water (added twist if you would rather use beer instead of water then that's fine)

10.Add the lid to the pot and place in the pre heated oven and cook for 6-8 hours until the beef is tender.
While the Brisket is cooking:
1.Thinly slice all the vegetables (cabbage and red onion) and grate the carrots.

2.Mix all together in a bowl with a good dollop of wasabi mayo and a pinch of salt and pepper.

3.Leave to one side.
Back to the Brisket :
1.Once the Brisket is cooked, remove from the oven and allow to cool slightly.

2.Drain off any excess fat from the top using a ladle.

3.Lift the beef out of the pot and place on a chopping board.

4.With the juices that are left in the pan, strain away all the vegetable chunks and leave the juices in a pan and reduce them down on a medium heat.

5.Shred the brisket using 2 forks.

6.Once the liquid is reduced place the shredded beef in the pan with it to coat the meat. (serving suggestion add a splash of Henderson's relish)
Assembly:
1.Heat the buns in the oven for 2 minutes to warm them through.

2.Slice the buns in half.

3.Place the rainbow slaw on the bottom of the bun.

4.Topped with a generous heap of the Brisket.

5.On the top of the bun add the wasabi mayo and put it all together.

6.Serve.