You will need:
Serves 2
2 x 6oz Wagyu Fillets
1 x Shallot
1 x Garlic Clove
120g Button Mushrooms
1 x small sprig of thyme
2 x Sheets of pre-prepped rolled puff pastry
1 x medium egg
100ml milk
1tbs Plain flour
1tsp Wasabi Mustard
pinch of salt and pepper
1tbs Wagyu Beef Dripping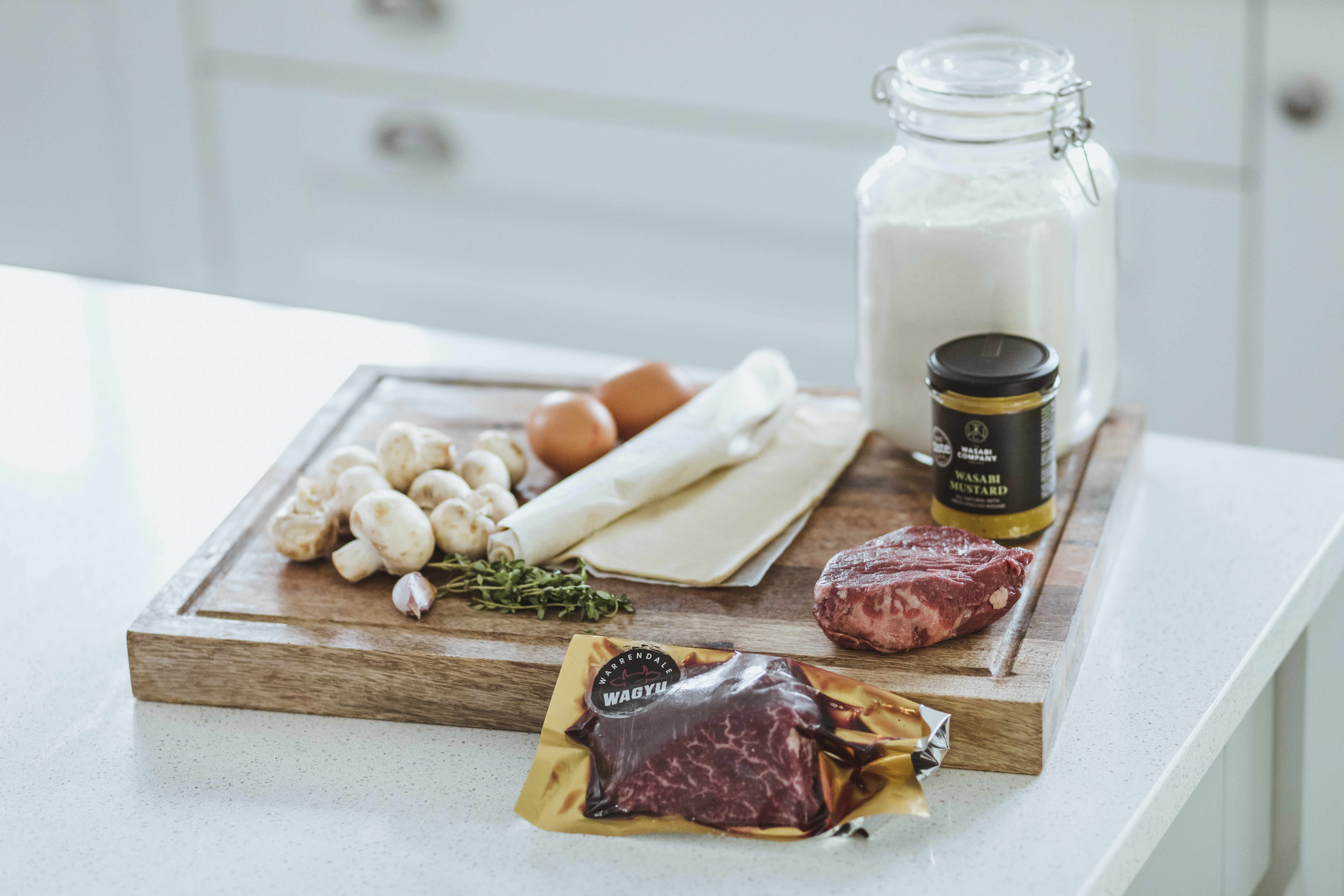 1.Pre heat the oven to 200 degrees.

2.Finely dice the shallot, button mushrooms, thyme and peel and grate the garlic.

3.Heat a frying pan on a medium to high heat, add the beef dripping.

4.Once the dripping is melted add the mushroom, shallot, thyme and garlic to the pan. Lower the heat and let it all sweat together to make a paste.

5.While that is sweating make your pancake.

6.Mix the egg, milk, and flour into a bowl. In a pancake pan brush with oil and add a small ladle of batter. When the batter starts to bubble flip it over. Once cooked leave to one side. 1 pancake's will be needed.

7.Add the wasabi mustard to the mushroom paste in the pan.

8.In a separate pan add a 1tbs of beef dripping and bring to a medium/high heat.

9.Remove your fillet steak from its packaging and season on both sides.

10.Once seasoned add the fillet steaks to a hot pan. Do not cook through, just brown slightly on every side, then remove.
How to build your beef wellington
Place your cooled pancakes on a clean surface

To the centre of each pancake add ½ the mushroom paste and spread out.

Place the fillet on top of the mushroom paste and then wrap the pancake around the steak.

On a clean surface lay out your pastry.

Place one pancake parcel in the middle of each of the pastries, brush the edges of the pastry with an egg wash. When ready fold the pastry around the pancake parcel and trim away any excess pastry.

11.When your mini wellingtons are assembled bring back your egg wash and glaze the top side of each parcel.

12.Once glazed lightly score each parcel before putting them both in the pre-heated oven for 12-14 minutes.

13.Once cooked remove from the oven and serve with your choice of sides.